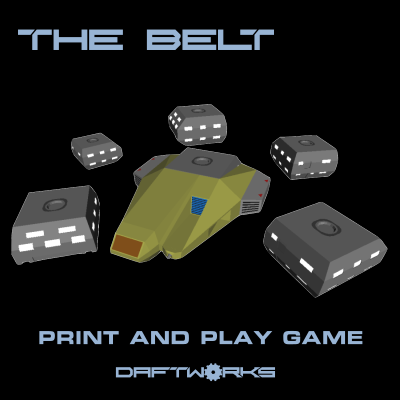 In the future, when mankind has been exiled from planet Earth and must eke out a living in the cold space of the solar system, any resource is precious.
As the human remnant expands, so does the need for minerals, metals and the raw elements for manufacture. The most abundant source of these is the asteroid belt between Mars and Jupiter, but freeboters, mercenaries and pirates have laid claim to those resources and will fight for them.
Welcome to THE BELT.
Up to four players can take on the challenges of THE BELT – trying to mine ore from the asteroids and return the precious cargo back to base. But watch out! Ruthless brigands are hunting you down to steal that cargo!
The Belt is a simple to learn board game. The free starter pack contains:
A single A4 leaflet containing rules and instructions.
A template for the hex-grid play area.
A print and play sheet containing 4 ship counters, 4 base counters and two pirate ships.
A sheet of printable asteroids.
Play the game YOUR way. The base game is open to customisation. Play pirates versus players or have a player take on the role of pirate. Use the basic rules to make up your own game! It's up to you.
Additional content for this game is pending, but feel free to request something for yourself and our team of talented designers can make it happen.
"The Belt" by David T.W. Hughes is offered for free download under a Creative Commons Attribution-Non-Commercial-No Derivative Works 2.0 UK: England & Wales License.