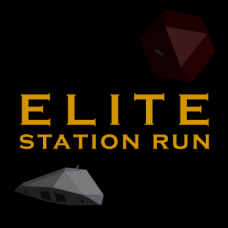 This quick-to-play board game is a simulation of the core element of the Elite game: getting your ship to the local station after coming out of hyperspace.
The instructions in the zip file tell you how to set up the game and what you will need to play.
You will need scissors, a sharp knife and some PVA or craft glue to assemble the models.
This special, expanded edition of the game comes complete with hexagonal counters representing the white-outlined wireframe ships from the classic 8-but Elite games as well as exclusive Oolite ship counters and "FlexiHex" stand-up models of the Cobra Mk III (again in Oolite colours).
Custom six-sided dice templates are included for you to cut out and build into your own set of dice.
[ DOWNLOAD ELITE: STATION RUN ]
You can read a review and gameplay commentary here, thanks to Thermonuklear on the Oolite forums.
Elite is (c) 1984 Acornsoft, created by Ian Bell and David Braben
Oolite was created by Giles Williams and is maintained by Jens Ayton and the Oolite community under a GNU Public License.
Elite: Station Run by David T.W. Hughes is licensed under a Creative Commons Attribution-Non-Commercial-No Derivative Works 2.0 UK: England & Wales License
and is in no way connected to or part of the Elite Dangerous or Elite Encounters developments.